See special holiday gift boxes at the bottom of this page
2012 Pinot Gris, Santa Cruz
Mountains, Regan Vineyards
The Pinot Gris is a mutation of the Pinot Noir with skins that are lightly red-colored. This wine is
made in the Alsatian style as opposed to the modern Italian Pinot Grigio, which is a relatively light wine. The result is a wine that is full and rich with a slight gold coloration that results from brief skin contact. The aroma is rich and fruity, with distinct apricot, pear, and honeysuckle overtones. The taste reveals the Pinot Noir ancestry, with an intense fruit flavor and lingering finish that makes it very appealing. $24/bottle Club Price $19.20
2012 Dry Rosé of Old Vine Zinfandel, Lodi AVAILABLE ONLY AT THE WINERY

This is our second vintage of this delicious wine. We make it by separating the juice from the skin within hours of crushing the grapes to achieve the desired color. The wine was fermented until completely dry in our small stainless steel barrels and aged on the lees. Our Dry Rosé has a spicy, fruity aroma that derives from its Zinfandel origin. The taste is also very fruity with berry overtones and a crisp, refreshing acid balance.

Special price (no additional discounts): $14/bottle $108/case
2011 Chardonnay, Chalone, Brosseau Vineyard

The 2011 Brosseau Vineyard Chardonnay was made from organically-grown grapes produced by 30 year old ungrafted vines. The vineyard, with a deep limestone soil, is located in the mountains to the east of Soledad near the Pinnacles National Monument. This type of soil, found in Burgundy and Chablis in France, give a special character to Chardonnay grapes grown in it. The grapes were harvested at night to preserve the highest quality fruit. The wine was fermented and aged in French oak barrels, with extended aging on the lees and was bottled without fining or filtration. It has very complex aromas combining fruit and minerality. The taste has full, rich flavors with considerable elegance and shows excellent balance with an overall character remarkably similar to classic French white Burgundies. It would go well with shellfish and other seafood as well as roast chicken and creamy pasta dishes.

$32/bottle Club Price $25.60

2009 Pinot Noir, Santa Cruz Mountains, Regan Vineyards

2009 was a very fine year for Pinot Noir in the Regan Vineyards. The grapes ripened slowly and steadily and achieved full maturity in excellent condition. The resulting wine is very dark for a Pinot. It has a full and and intense Pinot Noir varietal aroma with notable complexity. The taste is rich, multi-layered, and very full-bodied with a fine "silky" texture in the mouth, something that is characteristic of top French Burgundies. Though this is a big wine, but it is superbly balanced and can be drunk with pleasure now, especially if it is exposed to air for 30-60 minutes before consuming. $36/bottle Club price $28.80


2010 Pinot Noir, Chalone, Brosseau Vineyard
The 2010 Brosseau Vineyard Pinot Noir was made from organically-grown grapes that were harvested at night to preserve the high quality of the fruit. The vineyard, with a very deep limestone soil, is located in the mountains to the east of Soledad near the Pinnacles National Monument. The soil is very similar to that found in areas of Burgundy in France and contributes special aromas and flavors to the grapes grown in it. Fermented in one-ton lots with traditional punch-down by hand, the wine was aged for 18 months in one-to-three year old French oak barrels. Bottled without fining or filtration, the wine has refined, complex aromas of berries and other fruits and shows an excellent balance of fruit, tannins, and acid in the taste with an overall character similar to fine French red Burgundies. This wine would be a superb accompaniment for a variety of meat and fowl dishes as well as lighter cheeses. $39/bottle Club price $31.20

2010 Pinot Noir, Santa Cruz Mountains, Fambrini Vineyard
This Pinot Noir was made from grapes grown in the Fambrini Vineyard located in the mountains just west of the city of Santa Cruz. Rexford Winery is the only one making wine from this vineyard. The combination of limestone-laden soil, excellent drainage, and cool climate is ideal for the growing of Pinot Noir grapes. This is our third Pinot from the vineyard, and it exhibits the same truly unique aromas and tastes that we have found to be characteristic of past vintages from the vineyard. Moderately dark in color with an expressive aroma of Pinot Noir, it tastes rich and complex with earthy overtones. It was aged in small French oak barrels and was neither fined nor filtered. Enjoyable now as a truly outstanding and unique Santa Cruz Mountains Pinot Noir, it will continue to develop for some time in the bottle.
$42/bottle Club Price $33.60

2010 Pinot Noir, Santa Cruz Mountains AVAILABLE EXCLUSIVELY AT THE WINERY

This release is our first ever blend of Pinot Noir from more than one vineyard. We found that, at least from this vintage, the mix of flavors and aromas from the Regan Vineyards and Fambrini Vineyard Pinots complemented each other superbly. The wine is quite dark in color with a rich aroma of Pinot Noir and it has considerable depth and complexity. It was aged in small French oak barrels and bottled without fining or filtration. Enjoy it with salmon, pan seared duck breast or grilled steak.
$38 bottle/$7 glass Club price $30.40
2009 Merlot, Santa Cruz Mountains
From the same vineyard as our 2008 Merlot below, 2009 was a cooler year that resulted in a less concentrated, intense wine, but is otherwise similar to the 2008. It has the distinct aromas and flavors of a fine Merlot, with a very dark color and distint peppery spiciness with hints of blackcurrents. It is drinking well now and pairs with a variety of foods.

$25/bottle Club price $20
2008 Merlot, Santa Cruz Mountains, Regan Vineyards, Reserve (very limited quantity)
An extremely dark ruby color with purple overtones make this wine almost opaque. With complex and powerful aromas of cedar and other scents and a very full and intense taste, it is reminiscent of a top-rate Pomerol or Saint Emilion from the Bordeaux region of France. The wine simply must be tasted to appreciate its special qualities, as words cannot do it justice. At its superb, benchmark level of excellence, our 2008 Merlot reaffirms that Merlot is one of the great wine grapes of the world.
$48/bottle Club price $38.40
2011 Zinfandel Dessert Wine, California
This is our first-ever port-style wine. It was made from grapes grown on vines ranging from 30 to over 100 years old. The fermentation took place in small lots that were punched down by hand twice a day. It was aged for two years in French oak barrels. Bottled without fining or filtering, the wine is extremely dark with spicy, berry aromas that derive from its Zinfandel origin. The taste is very rich and full-bodied with berry overtones and an excellent balance of sweetness and acidity. Overall the wine is reminiscent of an excellent ruby port. This is a fine example of the suitability of old-vine Zinfandel for making dessert wines.
$25/bottle Club price $20
We have created two gift packs at special prices in an elegant gift box: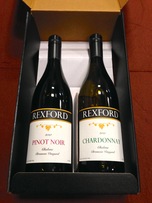 First is the Brosseau Vineyard 2 pack, which includes the 2011 Chardonnay and 2010 Pinot Noir (illustrated above). It's priced at $60 (normally $71).
Second is a Santa Cruz Mountains Pinot Noir 3 Pack. This includes the 2009
Regan Vineyards, 2010 Fambrini Vineyard and 2010 SCM (a blend from these two vineyards. It's priced at $90 (regularly $116). Both packs include the gift box ($6 value).